Sweet & Spicy Chicken
Pasta, chicken & appetizing Seres Foods Heat!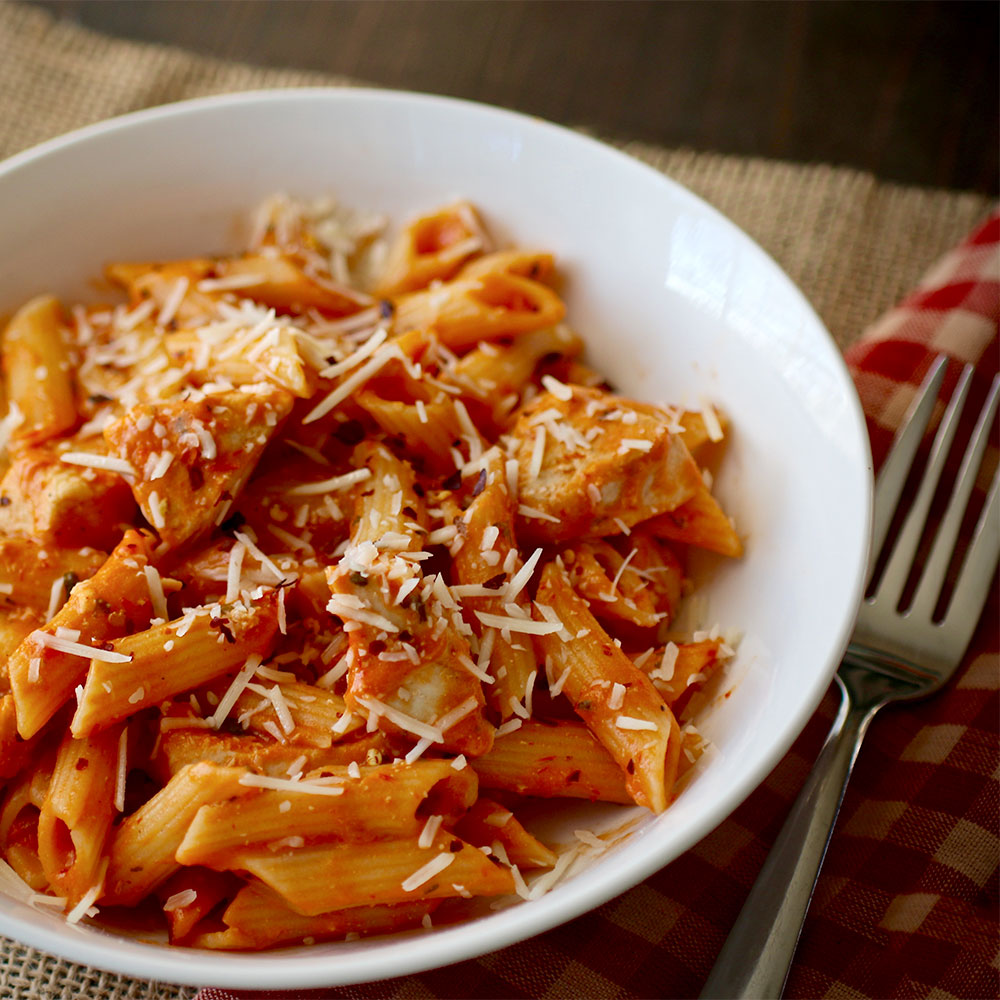 Ingredients
Ingredients (serves 4):
2-3 red peppers, fine chopped

2-3 garlic cloves, peeled

3 tablespoons crushed almonds

1/2 teaspoon Seres Foods Red Jalapeno Pepper Sauce

1 medium sized onion, chopped

1/2 cup chicken stock

1/2 cup milk

750g boneless chicken breast, cut into stripes

5 tablespoons of olive oil, extra virigine

1 medium sized zucchini, fine chopped

salt and black pepper

1/2 cup fresh basil

350g 8min boiled penne type pasta

shredded cheese for garnish
Preparation
Put the first 5 ingredients in your blender or food processor and process into a paste/pulp.
Heat the oil in a large frying pan or Dutch oven, when hot enough pour the blend in and on a medium high heat fry for 10 minutes.
Add the milk and chicken stock.
Then add the chicken and stir, add the zucchini a few minutes later.
Bring to the boil, lower the heat, cover and simmer for 10- 15 minutes or until the chicken is tender.
In the meantime cook the pasta according package instructions, drain when cooked, and put in a large warm dish.
Check the seasoning of the chicken dish, If you find the sauce too thick you can add some more chicken stock, it depends how much moisture the zucchini will release, add half of the basil, mix and put half of the chicken on top of the pasta, mix, then pour over the remaining.
Sprinkle the rest of the basil on top together with the pine nuts.
Nutrition Info
Serving Size: 1 (506 g)
Servings Per Recipe: 4
AMOUNT PER SERVING % DAILY VALUE
Calories 919.3

Calories from Fat 400 44%

Total Fat 44.5 g 68%

Saturated Fat 9.2 g 46%

Cholesterol 119 mg 39%

Sodium 195.8 mg 8%

Total Carbohydrate 83.4 g 27%

Dietary Fiber 12.9 g 51%