Spicy Chicken with Garlic
Another succulent recipe with Seres Foods products.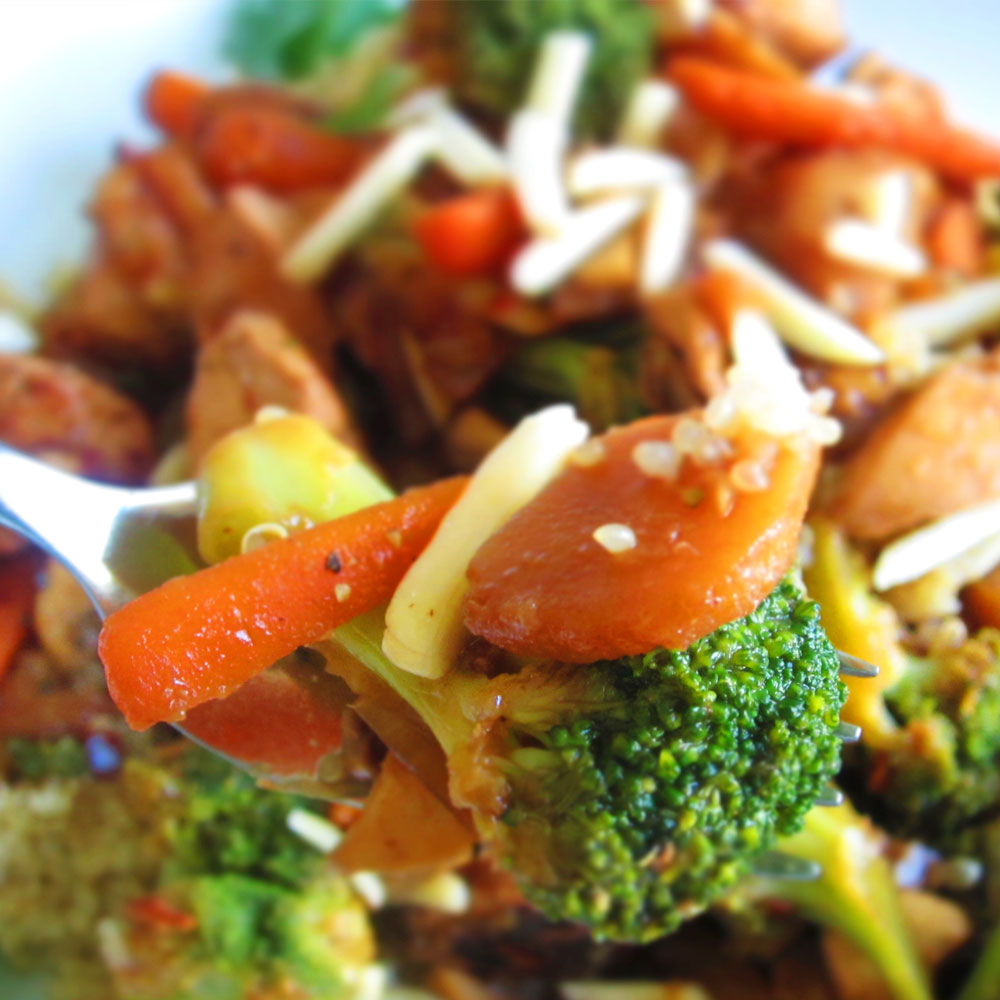 I
ngredients
(serves 4):
1.350g chicken breast

1/4 cup of sunflower oil

2 tablespoon Seres Foods Garlic & Jalapeno Pepper Sauce

3 celery stems, lengthwise sliced

8oz boiled and sliced chestnuts

1/2 cup small cut broccoli

1/2 cup sliced carrots

5 gloves of garlic, minced

1 teaspoon fine chopped ginger

1 bunch of green sping onions

3/4 cup of white wine

1 tablespoon Seres Foods Hot Chilli Flake Sauce
Preparation
Cut the chicken lengthwise into 1/4-inch strips. Set chicken aside.
Pour oil around the top of a preheated wok or skillet with sloped sides; heat at medium-high (375) for 2 minutes. Add Seres Foods Garlic & Jalepno Pepper Sauce and stir-fry 2 to 3 minutes. Add the reserved chicken, and stir-fry for 7 minutes or until lightly browned. Remove chicken from the wok; drain well, and set aside.
Add the celery, water chestnuts, broccoli flowerets, carrot, garlic, and gingerroot to the wok, and stir-fry 3 to 5 minutes.
Add the reserved chile pepper pods, reserved chicken, and green onion to the wok. Combine wine and Seres Foods Hot Chili Flakes paste (if using); add to the wok and stir-fry until thoroughly heated. Serve over hot cooked rice or pasta.
Nutrition Info
Serving Size: 1 (596 g)
Servings Per Recipe: 4
AMOUNT PER SERVING % DAILY VALUE
Calories 845.5

Calories from Fat 410 49%

Total Fat 45.6 g 70%

Saturated Fat 10.9 g 54%

Cholesterol 217.9 mg 72%

Sodium 265.8 mg 11%

Total Carbohydrate 20.6 g 6%

Dietary Fiber 3.7 g 14%

Sugars 7 g 28%

Protein 74.1 g 148%